levelling playing field queers sports
Levelling the Playing Field - Queers in Sports
11-08-2023 2:00 PM - 11-08-2023 4:00 PM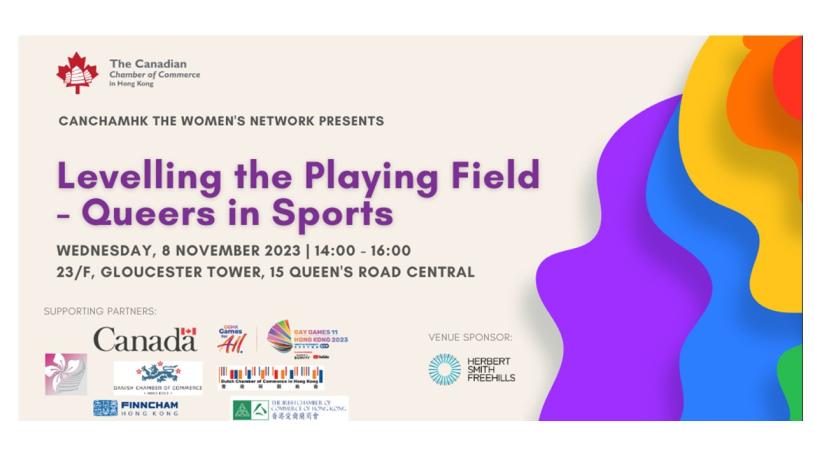 This seminar is particularly relevant as it coincides with the upcoming 11th Gay Games, set to take place in Hong Kong in 2023 from 3rd to 11th November 2023. During this essential event, esteemed guest speakers and accomplished athletes from Canada, Hong Kong, and the UK will share their personal journeys, shedding light on the barriers they have encountered and the strategies they have utilized to overcome discrimination and exclusion.
Their inspiring success stories aim to motivate and inspire fellow queer athletes and allies, emphasizing the importance of representation and inclusivity across various dimensions, including gender, race, and more. This seminar will provide a platform for open dialogue on equitable policies and regulations for queer and transgender athletes, seeking to strike a balance between inclusion and maintaining fair competition. Participants will gain a deeper understanding of the significance of creating supportive environments that embrace the diverse experiences within queer sports communities.
Moreover, this seminar will delve into inclusive initiatives and policies that can level the playing field in sports. Topics of discussion will include the establishment of safe spaces for queer athletes, the implementation of non-discrimination policies, equal funding and sponsorships, and fostering networking opportunities within the sports community. Attendees will have the chance to learn about existing initiatives, exchange ideas, and explore potential improvements for the future.
Join us at the "Levelling the Playing Field - Queers in Sports" seminar and contribute to the conversation to foster a more inclusive and equitable sports culture.
Member Price: HKD 180
Non-Member Price: HKD 250
Please register HERE
Speaker
Lisa Lam Co-chair & General Counsel Gay Games Hong Kong Managing Consultant KorumLegal
Dru Ho Founder The True North Leviathan
Emery Fung Deputy D&I Director & Football Lead Gay Games Hong Kong Founder Awkward Conversations
Tina Wong Co-founder and Chief Moving Officer Social S
Venue Name
Herbert Smith Freehills
Venue Address
23/F, Gloucester Tower, 15 Queen's Road Central